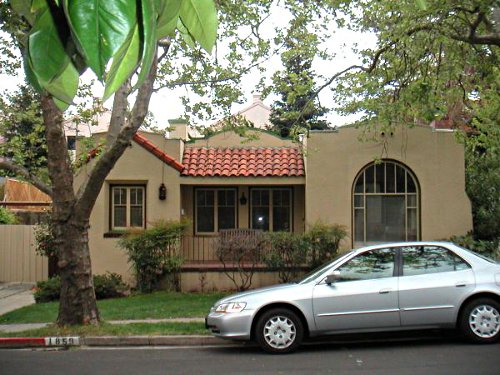 A 2br 1.5 ba is available beginning April 1st, with a year's lease in the Almond-Shuey part of Walnut Creek which is located within walking distance to downtown Walnut Creek for $2375/month.
From the Craiglist ad:
This house is in the well known Shuey Avenue residential neighborhood in downtown Walnut Creek. Walk to BART and all that downtown Walnut Creek offers.

The house is a Hollywood-style bungalow with a Spanish feel, and it has a front porch. Gorgeous oak floors throughout. Dramatic living room has a high ceiling, fireplace with buck stove, and a beautiful round-top window that extends nearly to the ceiling. There is a full size dining room with casement windows. Kitchen has a dishwasher, gas stove, microwave and refrigerator. There is a breakfast room off the kitchen that also makes a perfect home office. Laundry room with washer and dryer. Both bedrooms have wood sliding doors going out to a huge "Trex" deck for great outdoor living and entertaining, with wide steps down into a large garden, fenced and gated. Front lawn gardener provided.

Shuey Avenue is just steps from shopping and restaurants. Enjoy all that pedestrian-friendly Walnut Creek has to offer: Walk to BART, downtown, Regional Center for the Arts, library, Broadway Plaza, movie theaters, library, restaurants, and nightlife. No need for a car, but you can't beat the easy on, easy off convenience of this neighborhood, just a couple of blocks from Hwy 24 and 680. This is a neighborhood and a house to love.
This is a nice looking house. I was walking around the Almond-Shuey area and it's really pleasant over there, plus having downtown and Bart so close by is great. I guess one would need to see the inside to determine whether $2375 is a fair price.