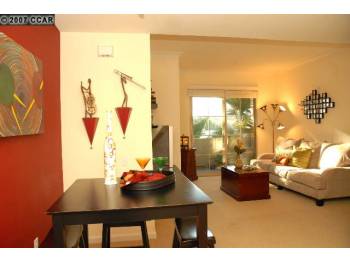 This rental is located at 1315 Alma Ave:

View Larger Map
From the Craigslist ad:
| | |
| --- | --- |
| Bedrooms | 2 |
| Bathrooms | 2 full, 0 partial |
| Sq Footage | 965 |
| Parking | 2 dedicated |
| Pet Policy | Conditional |
| Deposit | $2,700 |

Located in the Montecito, adjacent to Alma park and in the heart of Walnut Creek, this lovely downtown condo is just steps from the east bays best shopping, dinning, and entertainment .

The Montecito was constructed in 2002 and this unit was first sold in 2004. The prior owner completed a minor remodel with wood (laminate) in the entry and kitchen, granite counter tops and stainless appliances.

As it is currently occupied by a tenant in the move-out process, it will be available to show in mid-November with occupancy available December 1st. Unfortunately, there aren't pictures of the actually unit interior, but the photos shown are of the same floor plan with nearly identical upgrades.
These apartments are next to Alma park and walkable to downtown but I'd be concerned about noise from 680.