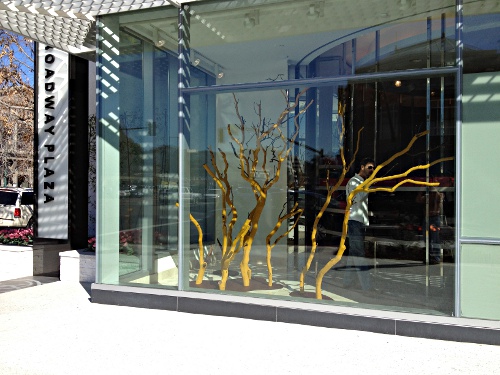 I spotted this window display a couple of weeks ago and it turns out this is actually part of the Neiman Marcus Walnut Creek art collection. Titled, "Second Nature", it was designed by Esther Traugot in 2012 using hand-dyed cotton thread and wood sticks. The Neiman Marcus post notes that it's located in the Men's Furnishings section, which, judging from the outside, we know is at the corner of Mt. Diablo Blvd. and N. Main St. Walnut Creek Patch also has a post on the Neiman Marcus art at Walnut Creek.
More information from the Neiman Marcus post:
The Walnut Creek store has 85,000 sq. ft of retail space on two floors plus a third level for administrative offices.  There are approximately 160 artworks comprised of paintings, sculpture, works on paper and limited edition prints from 30 Bay Area artists, in addition to the site-specific, kinetic sculpture by Ned Kahn commissioned for the exterior of the building.   Half of the interior works are commissions and half were existing pieces.  Some artists are represented by more than one work.