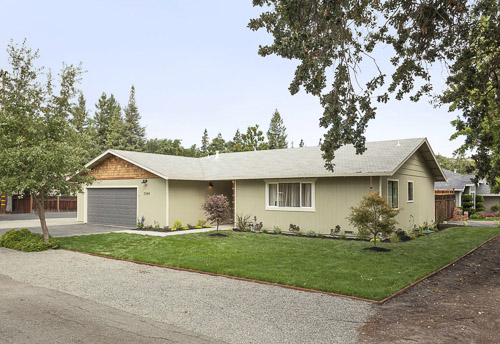 2364 Warren Road, Walnut Creek, CA
This is a guest post by Linnette Edwards, Associate Broker, Better Homes & Gardens Real Estate, whose website is www.MyHousingGuide.com. Find out more about this house here.

Saranap residents are proud of their idyllic-living legacy, so much so there's even a book about this quaint neighborhood, "Saranap Then and Now." Saranap Then was a getaway destination that attracted San Franciscans looking to spend their summers in the sunshine and warmer weather that is the hallmark of this village and its neighboring cities Lafayette and Walnut Creek. Saranap residents, or Saranapians some still call themselves, lived in cottages built among the area's rolling green hills that at the time were generously populated with fruit and walnut orchards, livestock and barns.
The area was developed in the early 1900s as a railroad town primarily by Sam Naphtaly and Stephen Dewing. After some wrangling and a substantial land grant made by Naphtaly, it was determined the then town would be named after Sam's mother Sarah. While it's said that Saranap is no longer home to Naphtaly decedents, a Dewing decedent still resides in a family home located on Dewing Road. This is also where a piece of this neighborhood's coveted history is for sale at 2364 Warren Road. This same plot of land has been held in the same family since the 1950s. The seller's now grown children still live in the area and have fond memories of growing up in this unique and charming community, where they're quick to recall running freely along country roads and through fields of walnut groves dotted with barns and chicken coops. Today the home is nestled in a quiet neighborhood that's just a 20-minute walk from downtown Walnut Creek.
Read the rest and see more photos of the Warren Road house after the jump…