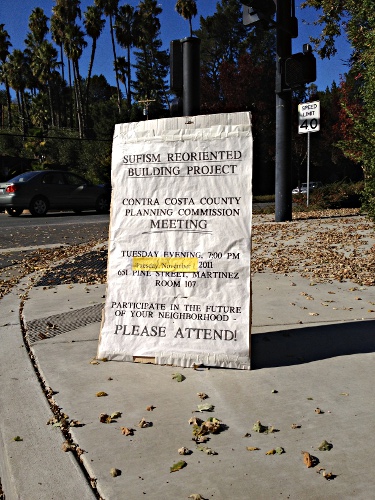 The Contra Costa Planning Commision is holding a meeting on the Sufism Reoriented building project. According to the land use permit:
This is a request for a Land Use Permit to allow construction of a new sanctuary on approximately 3.12 acres. The proposed project includes: (1) a 66,074 square foot sanctuary building that includes a prayer hall, administrative offices, a library, classroom, archives, art and music program space, and related ancillary uses. Approximately 46,074 square feet of the building would be located below ground, including the administrative offices, bookstore, art studio, art storage, chorus rehearsal, video and audio production, music mixing and scoring, reception area, multi-purpose room, film/video and photo library, a music, drama, and dance studio, a coat room, women's and men's restrooms, and a kitchen. The 46,074 square feet includes approximately 13,800 square feet as open areas referenced as a rotunda, plaza, and east and west galleries (hallway) and a grand staircase; (2) a request for parking reduction based on a Transportation Demand Management Program (TDM) which includes the promotion of carpool, shuttle service, pedestrian and secure bicycle parking; (3) the removal of approximately 58 trees and the planting of at least 165 new trees; (4) the excavation and removal of soil (approximately 40,000 cubic yards of soil) an estimated 3,300 truck load of soil to be exported; and (5) demolition of three existing single family residences.
Crazy in Suburbia explained the issues in detail here, here with her latest posting here. It will be interesting to hear what happens in this latest meeting.