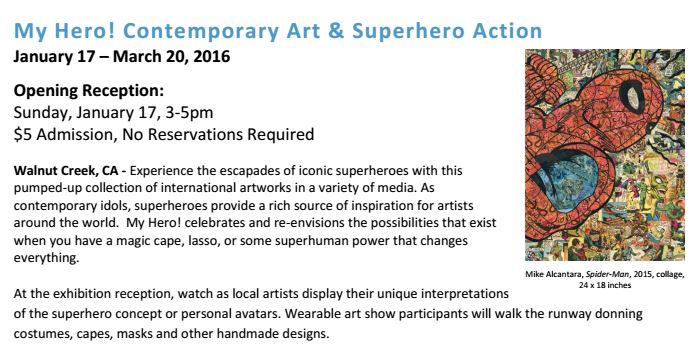 My Hero! Contemporary Art & Superhero Action – Opening Reception:
Bedford Gallery
1601 Civic Drive
Sunday, January 17th, 2015
3:00pm – 5:00pm | $5

Experience the escapades of iconic superheroes with this pumped-up collection of international artworks in a variety of media. As contemporary idols, superheroes provide a rich source of inspiration for artists around the world. My Hero! celebrates and re-envisions the possibilities that exist when you have a magic cape, lasso, or some superhuman power that changes everything.

At the exhibition reception, watch as local artists display their unique interpretations of the superhero concept or personal avatars. Wearable art show participants will walk the runway donning costumes, capes, masks and other handmade designs.

Open to the public. Admission: $5 adults, $3 youth (13-17), children 12 & under free.