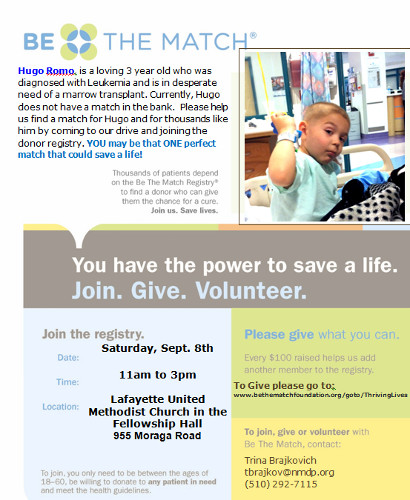 From an email:
On Saturday September 8th, I am coordinating a drive/registry to help 3 year old Hugo who has leukemia find a bone marrow match.  Hugo is the son of a friend from Fresno.  A match has not yet been found for Hugo and he is a very very sick little boy.  He needs a match ASAP.  What I am asking is if you, your friends and most important your children over 18  have 10-15 minutes on Saturday the 8th to come to Lafayette United Methodist Church in Lafayette to do a quick cheek swab. One of you may be the very fortunate individual to save Hugo's or another child's or adults life that is suffering from Leukemia.

A flyer is attached that gives you information about Be The Match foundation that is supporting this drive. Trina Brajkovich, the coordinator for the Bay Area will be at the registry. The registry will be from 11- 3 at Lafayette UnitedMethodist Church in the fellowship hall, 955 Moraga Road inLafayette.  Please come or share with others about this very important drive.  I encourage you to forward the attached flyer to others that might want to participate in the registry.

Thank you so much for your support.  I am also doing a bake sale for Be The Match Foundation during the drive if you have an interest in helping by providing baked goods that will be sold during the registry. Please feel free to call me or email me with any questions.