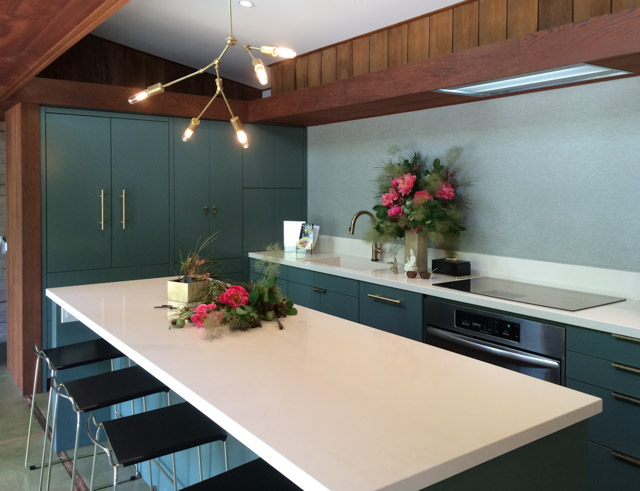 Over the weekend the Lafayette Juniors held their 16th annual kitchen tour featuring six amazing homes and kitchens in Lafayette and this year's beneficiaries are Ruby's Place, Boys & Girls Club of Diablo Valley, Las Trampas, Trinity Center Walnut Creek and VESTIA. Find out more about the beneficiaries here. This year the Lafayette Juniors also published a cookbook with delicious looking recipes which is available at, "select Lafayette locations, including Diablo Foods, Venture Quality Goods, and The Storyteller Bookstore."
Everything came together with this mid-century modern kitchen that perfectly complements the Fred Langhorst-designed house, who was an apprentice of Frank Loyd Wright. The colors, textures and lighting feel just right. One of my favorite parts of this home are the gorgeous lights. This kitchen was featured in a Houzz "Kitchen of the Week" post here.
Check out the kitchen designer's website, Cocoon Home, here. Also note that the painting behind the table in the photo below is by local Lafayette artist Jennifer Perlmutter. Check out her gallery website here.
From the Lafayette Juniors description:
The mid-century modern kitchen homeowners took great care in updating their 1953 home to create a kitchen that is both functional and stylistically appropriate. Existing redwood paneling throughout the home is complemented by cool bluish green cabinetry, while brass hardware and lighting warm up the space. The homeowners improved traffic flow and opened up this kitchen to make it truly the heart of the home.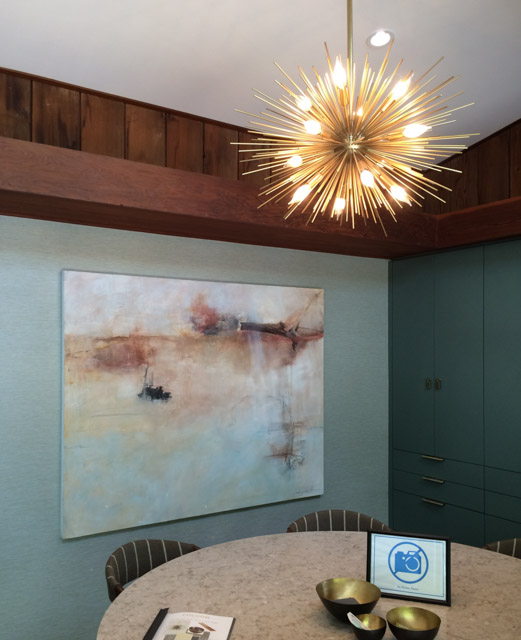 Ed. Note: The no photography sign didn't apply to press
Photos of the living room and patio area after the jump… Continue Reading