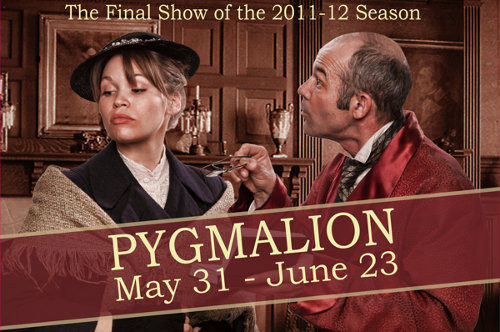 Pygmalion, a 1912 play written by George Bernard Shaw is opening tonight at the Town Hall Theatre in Lafayette and runs through June 23rd.
From the Town Halle Theatre website:
Renowned linguist Henry Higgins makes a wager that he can transform young Eliza into a sophisticated lady.  But will changing her speech change her mind?

Show-at-a-glance:

Rated:  PG
Running Time:  approx. 2 1/2 hrs. including one 15-minute intermission

Featuring:
Jennie Brick – Mrs. Eynsford-Hill
Tiffany Hoover – Mrs. Pearce/Bystander/Parlor Maid/Constable
Ann Kendrick – Mrs. Higgins
Jenna Stitch – Clara
Chris Parnell-Hayes – Mr. Doolittle
Ginny Wehrmeister – Eliza Doolittle
Michael Scott Wells – Freddy
Don Wood – Col. Pickering
Clive Worsley – Prof. Henry Higgins
Tickets may purchased by visiting their website.