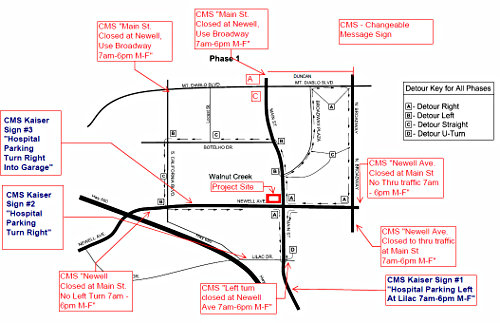 Last week I noted that the 'white' building at Newell & N. Main St. was getting demolished  and this is going to cause major detours for the foreseeable future. The detour map is available full size here. From the City of Walnut Creek webpage:
To ensure the public's safety during the exterior demolition, there will be significant lane closures around the Main Street/Newell Avenue intersection starting November 5.  Lane closures will be in effect between 7 a.m. and 6 p.m. Monday through Friday. Changeable message signs will be posted beginning October 29 to alert drivers to the closures. Specifically:

Main Street, southbound, will be closed between Broadway Plaza and Newell Avenue.

Newell Avenue, eastbound,

 

between the Newell Promenade entrance and Main Street

, 

will be closed

, 

except for one lane that will be right-turn only onto 

South 

Main

 Street

.

Newell Avenue, westbound, will be closed between Main Street and 

the Newell Promenade entrance

. 

The Kaiser Permanente garage entrance on Newell will remain open. Also, 

Newell Promenade

 shops on Newell between Main Street and California will remain open.
Understand? Good, because when I looked at the detour map I couldn't make heads or tails of it. 🙂