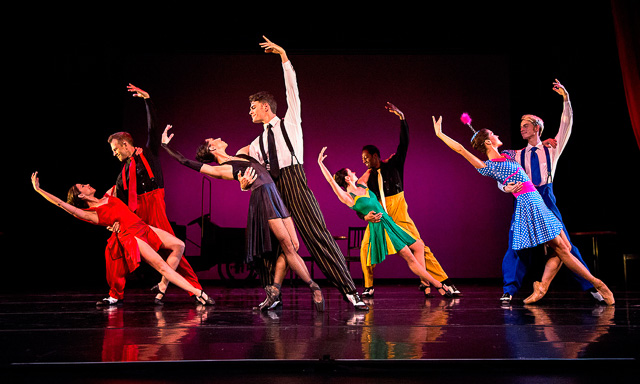 Photo from Diablo Ballet
Diablo Ballet's A Swingin' Holiday and More:
Del Valle Theatre
1963 Tice Valley Blvd. in Walnut Creek
Friday, November 10th – Sunday, November 12th, 2017
$25 – $49

Diablo Ballet, now in its 24th season, presents its annual favorite A Swingin' Holiday, created in 2012 by Sean Kelly, who is currently the Resident Director of the first national tour of "An American in Paris." The ballet is set to the exhilarating music of the 30's and 40's, with holiday favorites by legends Duke Ellington, Glenn Miller, Nat "King" Cole, and Wynton Marsalis, as well as jazzy renditions of Tchaikovsky's "The Nutcracker Suite", performed by the sixteen-piece Diablo Ballet Swing Orchestra under the Musical Direction of Greg Sudmeier.


The program also features the classic masterpiece, Valse Fantaisie by George Balanchine, originally created in 1953 for the New York City Ballet and set to a beautiful score by Mikhail Glinka. The ballet will be staged by Marina Eglevsky who grew up backstage at the New York City Ballet, with her famous father, Andre, who was a premier danseur for seven years at New York City Ballet. He created leading roles in numerous Balanchine ballets. Ms. Eglevsky has since inherited and stages several of George Balanchine ballets around the world. "I am so thrilled that Marina has returned to work with the Company to stage the original version of Valse Fantaisie which is very rarely performed. It's also one of the first Balanchine ballets that Diablo Ballet performed and that Marina set in 1995," states Artistic Director Lauren Jonas.

Also included in the holiday program is Resident Choreographer Robert Dekkers', No One Does It Like You. Set to the recordings of "In Ear Park" and "No One Does it Like You" by Department of Eagles. This touching duet, originally created for Arizona's NovaBallet, premiered in July of 2010 at the Tempe Center for the Arts in Tempe, Arizona.