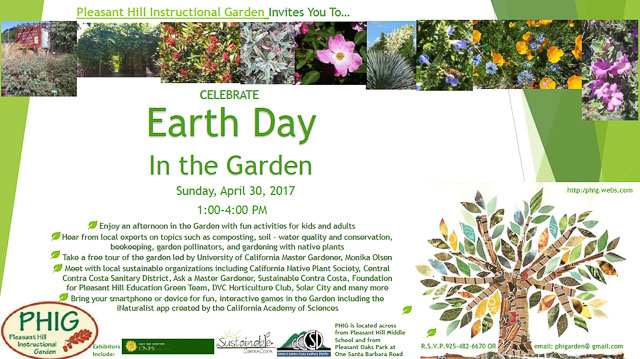 Check out the complete schedule here.
Celebrate Earth Day in the Garden:
Pleasant Hill Instructional Garden
1 Santa Barbara Rd, Pleasant Hill
Sunday, April 30th, 2017
1:00 – 4:00pm | Free

Enjoy a day in the Garden with fun activities for kids and adults – everyone Hear from local experts on topics such as smart irrigation, garden pollinators, and gardening with native plants. Take a tour of the garden led by University of California Master Gardener, Monika Olsen. Talk with local experts and organizations such as Wild Birds Unlimited, California Native Plant Society, Central Contra Costa Sanitary District, DVC Horticultural Club, and many more!