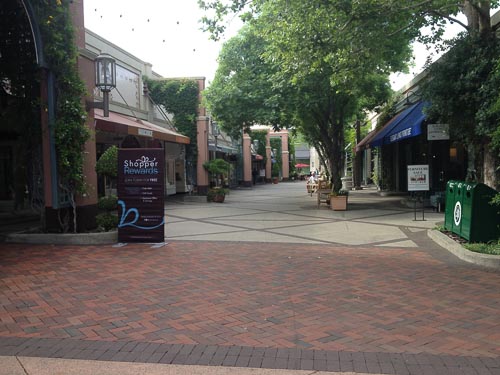 Back in March of last year I noted the Broadway Plaza demolition possibilities in Walnut Creek to make way for larger stores with possible mixed development i.e. apartments and it looks like plans are moving full steam ahead. Word on the street is that the backside of Broadway Plaza where the smaller shops are located such as See's Candies and Boudin Bakery will be closing sometime in 2014 so construction can begin.
Apparently no leases are being offered past December and judging by the number of empty storefronts it's making more sense now. There was already one open spot, and now AZM Jewelers is gone, as is As Seen on TV. Flares Bridal has closed their 2nd addition but still retains another presence a few stores down.
In addition I'm also hearing that Macerich, the owner of Broadway Plaza is actively working with retail stores to place them elsewhere in Broadway Plaza. So you may see a few of these stores moving nearby eventually.
2015 is right around the corner though so new stores will eventually open back up, possibly where the parking lot is currently located. Keep in mind this is only scuttlebutt, nothing has been confirmed yet.