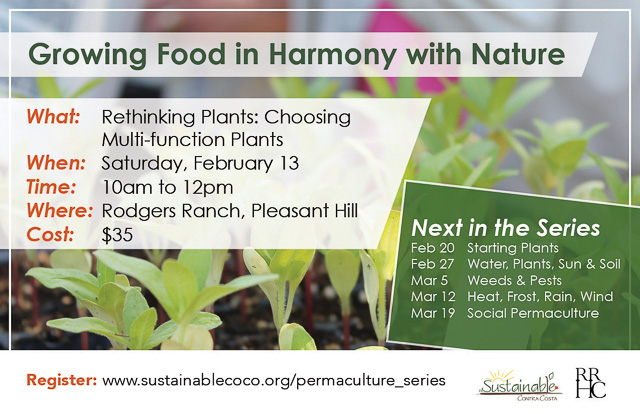 Rethinking Plants: Choosing Multi-function Plants:
Rodgers Ranch Heritage Center
315 Cortsen Rd, Pleasant Hill
Saturday, February 13, 2016
10:00 AM – 12:00 PM | $35 (bulk discount available)

The quality of soil makes or breaks any garden. Anyone can improve their soil with just a little time and effort – and it doesn't have to cost a dime. Plus, the healthier your soil, the more you save in amendments, your garden blossoms and you spend less time weeding and wondering why your garden isn't thriving. Participants will be able to: indentify soil characteristics based on texture, structure and types of plants growing in it; know what turns soil into dirt; understand basic plant biology (and why never to buy petrochemically-based fertilizers again); know how to compost and vermicompost; understand the importance of organic matter in soil (hint: more is better!).