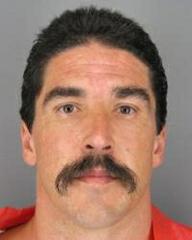 The Walnut Creek police reported on a Walnut Creek resident who was arrested last night for a commercial burglary in Lafayette recently:
Arrested: Stephen Walker. White male, 44 years old, brown hair, brown eyes, 5-10, 185. Resident of Walnut Creek.

On the above date and time, the Walnut Creek Police Department (WCPD) Investigations Bureau conducted a probation search on Stephen Walker at his residence on Geary Road. Walker is on felony probation for possession for sales of controlled substances. During the search, Detectives located stolen property that was traced back to a commercial burglary that recently occurred in Lafayette. Lafayette PD was notified and Walker was subsequently booked into the Martinez Detention Facility for felony no bail violation of his probation, Burglary and Possession of Stolen Property.

Anyone with information is encouraged to contact the Walnut Creek Police Department at (925) 943-5844.