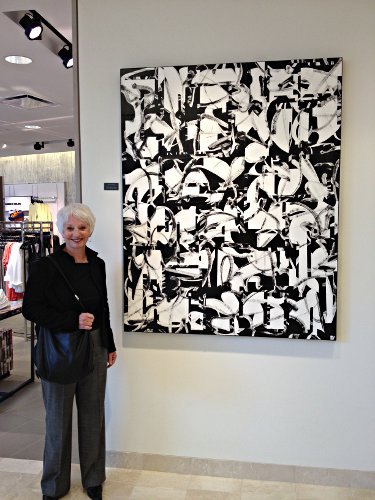 Artist: Judith Foosaner
Title: Breaking and Entering #12
Year: 2012
Medium: acrylic on paper on canvas
Location: Contemporary – 2nd floor
As noted a couple of days ago, there is plenty of local artwork permanently on display around the new Neiman Marcus store in Walnut Creek. On the press preview tour some of the artists were at the store so I was lucky to able to take photos of four of the artists with their artwork in the background. It was really great to be able to talk with them about their commissioned pieces and how the Neiman Marcus curator was able to place each piece in the most appropriate spot.
A couple of things to be aware of, this artwork is on permanent display, it does not get rotated out over time. Also, in deference to the artwork, Neiman Marcus does not display merchandise in front of the art. That's pretty incredible as they lose out on display space, but it's great for the shopper who can appreciate the art better.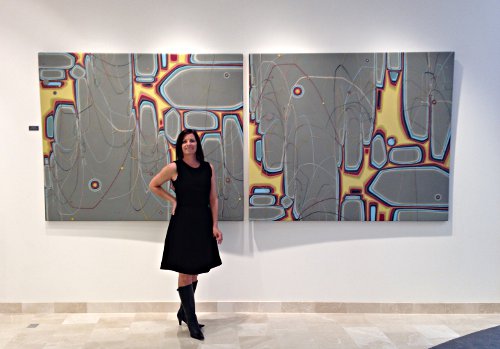 Artist: Kim Squaglia
Title: Bespoken
Year: 2012
Medium: Acrylic, oil and resin on panel
Location: Men's Furnishings – 1st floor
Check out two more artists after the jump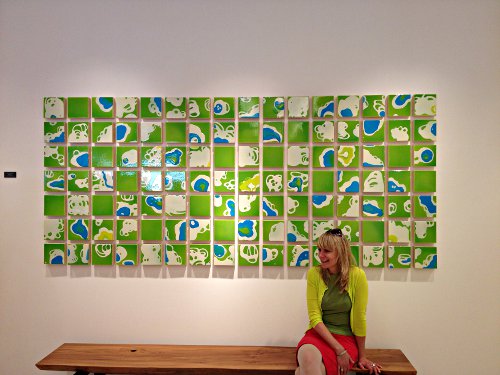 Artist: Deneane Niebergall
Title: Supranatural 112
Year: 2012
Medium: acrylic on wood panel
Location: Children's department – 2nd floor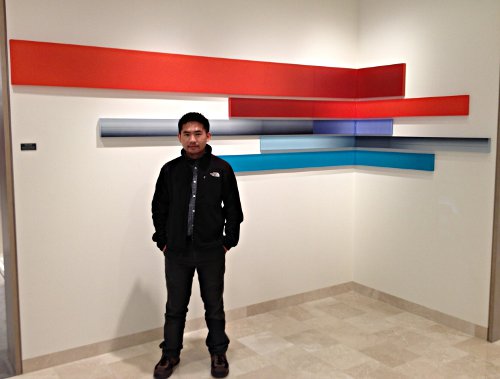 Artist: Freddy Chandra
Title: Confluence
Year: 2012
Medium: Acrylic paint, UV-stabilized resin and varnish on cast acrylic panels
Location: Designer – 2nd floor