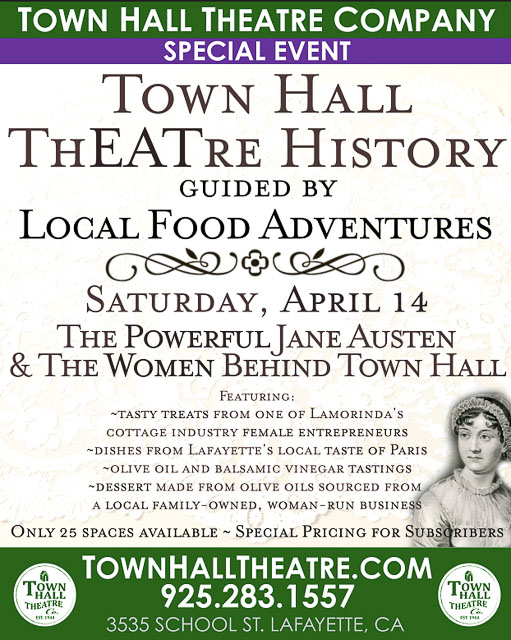 Town Hall ThEATre History – Guided by Local Food Adventures:
Town Hall Theatre
3535 School St, Lafayette
Saturday, April 14th, 2018
4:00 – 6:00pm | $45 ($40 subscribers)

Join us for a series of cultural and culinary explorations as we are led by Lafayette mom and Local Food Adventures owner, Lauren McCabe Herpich, as she takes you through the rich history behind Town Hall Theatre and the excitement of its theatrical productions — all while enjoying some seriously delicious local flavors along the way.

During these two-hour guided celebrations, Lauren will take you on a behind-the-scenes journey through the Town Hall Theatre and introduce you to the professionals that bring the magic of the stage to life. You'll also enjoy satisfying servings of foods and libations from local Lamorinda proprietors excited to expand on the theme of the theater.


The theme of the inaugural ThEATre History tour on April 14, 2018, is: The Powerful Jane Austen & The Women Behind Town Hall Theatre, in conjunction with the closing show of Town Hall's 2017/18 Main Stage Season, Sense & Sensibility. Guests will:

Be treated with a tasty homemade treat from one of Lamorinda's local cottage industry female entrepreneurs;

Enjoy a sampling of savory dishes from Lafayette's little neighborhood taste of Paris, owned by an extraordinary local woman;

Learn the proper way to taste authentic extra virgin olive oils and balsamic vinegar flavors inspired by Jane Austen's Sense & Sensibility; and

Finish with dessert made from olive oils sourced from a local family-owned, woman-run business leading the charge in its industry.