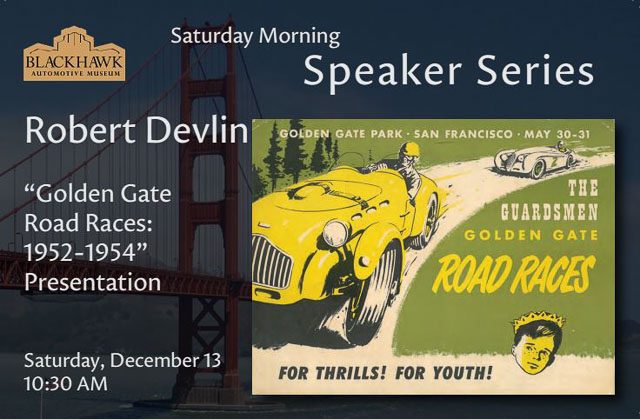 Saturday Morning Speaker Series: Golden Gate Road Races: 1952-1954:
Blackhawk Automotive Museum
3700 Blackhawk Plaza Circle, Danville
Saturday, December 13th, 2014
10:30am | Free with admission

Between 1952 and 1954, during a time before racing settled into purpose built tracks, there were a series of races that ran through San Francisco's Golden Gate Park. Fast cars, tight turns, and spectators lining the road—an era of racing that has gone forever.

The idea was simple: "Put a bunch of high-powered sports cars in the middle of Golden Gate Park, and have an all-out road race, with 100,000 spectators standing inches from the speeding Ferraris and Jaguars." (Michael Taylor, SFGate)

An ardent automobile enthusiast and historian, Robert Devlin is a very active member of the Ferrari Club of America, having held several national positions with that organization and serving regularly as a judge at both regional and national events. Robert will be giving a presentation on the Golden Gate Road Races and will be on hand for a question and answer session immediately following.

There will be a question and answer session following the presentation. The speaker series is Free with admission to the restaurant and is Free to Museum Member.