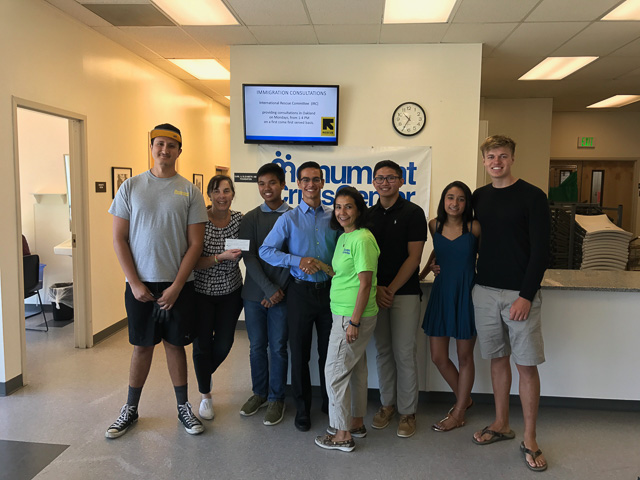 Props to these Northgate high students in Walnut Creek who started a company and then donated their profits to the Monument Crisis Center in Concord!
From an email:
My name is Miguel Ramos and I am a rising senior at Northgate High School. I am part of a program called Junior Achievement and along with 16 other students from Northgate and other schools in the area, we founded a start-up company called Fleece Bay, a nod to East Bay. We would hold weekly meetings at the AAA at Walnut Creek with guidance from employees of AAA and Junior Achievement. Through preorders, Fleece Bay was able to sell 75 blankets in a span of two weeks earning us a revenue over $2,000. We would spend our weekends manufacturing these blankets and delivering the blankets to our customers. We would then take part in "Junior Achievement's Company of the Year Competition" against other companies in Northern California. We were awarded with the Best Business Plan Award and came second in the Best Commercial Award. We finally liquidated Fleece Bay in July and in August we donated all of our profits to our local charity, the Monument Crisis Center at Concord.

Personally, Junior Achievement and Fleece Bay means a lot to me. It was a great learning experience to be surrounded by a group of focused and determined students. We were all able to get an inside look into the business world and find where our passions lie. Our members were able to see the importance of cooperation and leadership. I found my deep interest for the finance side and look to mold my career path towards the accounting/financial advisory side.

With the lessons and the connections we've made, we look to start another company next year under Junior Achievement and create a company with a mission focused on civil engagement and giving back. Some public recognition would be a great help for us to get closer to accomplishing our mission of helping the underprivileged in our area. Thank you and I look forward to hearing back!