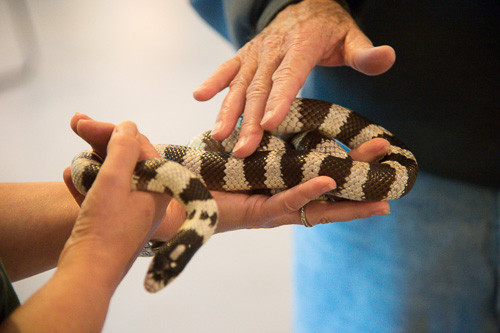 Photo from Lindsay Wildlife Museum
Not-So-Scary Animals for Halloween:
Lindsay Wildlife Museum
1931 First Ave, Walnut Creek
Saturday, October 26th, 27th & Wednesday, October 30th, 31st, 2013
12:00pm – 4:00pm | $8.50

What: As part of the ten-day Bay Area Science Festival Lindsay Wildlife Museum presents 'Not-So-Scary Animals for Halloween,' four days of fall fun featuring some of the world's most frightening creatures – bats, owls, spiders, snakes, vultures and more – in a not-so-scary way. Each family friendly presentation includes meeting live animal ambassadors, learning about their special adaptations, and talking with their keepers.

Lindsay Wildlife Museum is the first-ever Bay Area Science Festival partner in Contra Costa County.

This collaborative public education initiative brings together leading academic, scientific, corporate, and non-profit institutions to showcase the region as an international leader in innovation. Based on similar festivals throughout the world, the 50+ festival events are expected to attract over 50,000 active participants, many of whom traditionally do not have access to quality scientific resources.

While You Were Sleeping – Meet live nocturnal animals and learn why they stay up all night and how they find their way in the dark.
Creepy Crawlies – Get up close to spiders, cockroaches and snakes and learn how these 'creepy' animals help the environment.
Animal Myths – Are bats blind? Can a toad give you warts? Are all snakes poisonous?

Where: Lindsay Wildlife Museum, 1931 First Ave., Walnut Creek, adjacent to Larkey Park.
When: October 26 & 27, October 30 & 31, 12-4pm.
For more information: Please call 925-627-2913 or visit www.wildlife-museum.org.