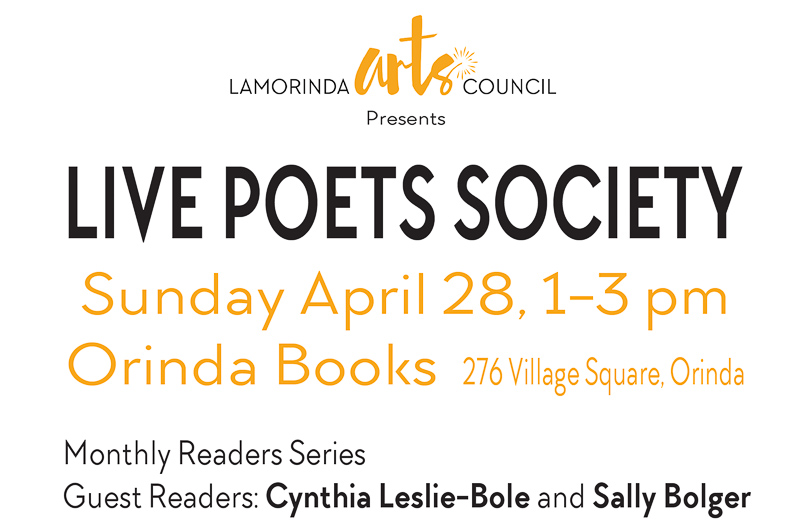 Live Poets Society:
Orinda Books
276 Village Square, Orinda
Sunday, April 28th, 2019
1:00 – 3:00pm | Free

The featured writers for April 28, 2019 will be Cynthia Leslie-Bole and Sally Bolger.
Cynthia Leslie-Bole is a writing coach, editor, and certified Amherst Writers and Artists Method group leader who has published in Pure Slush, Rootstalk, Moonshine Ink's Creative Brew and the just-released anthology Fire and Rain: Eco poetry of California. Her first collection of poetry, The Luminous In-Between, invites us to experience the radiance of one woman's evolution through marriage, motherhood, spiritual individuation, and kinship with nature. This lyrical volume celebrates our innate capacity to create, heal, and perceive what lies beyond the ordinary in 'the luminous in-between.' Cynthia lives in Orinda.

Sally Bolger is a writer, explorer, and conservationist who follows her heart beyond the boundaries of her comfort zone into the unknown. Born in Lafayette and raised in Orinda, Sally now travels the world, engaging in on-the-ground conservation efforts, returning to tell the tales of her adventures in poetry, fiction, and spoken word. Sally's first book for children, Fun in the Mud – a Wetlands Tale, has been named a Hot Off the Press pick by the Children's Book Council.