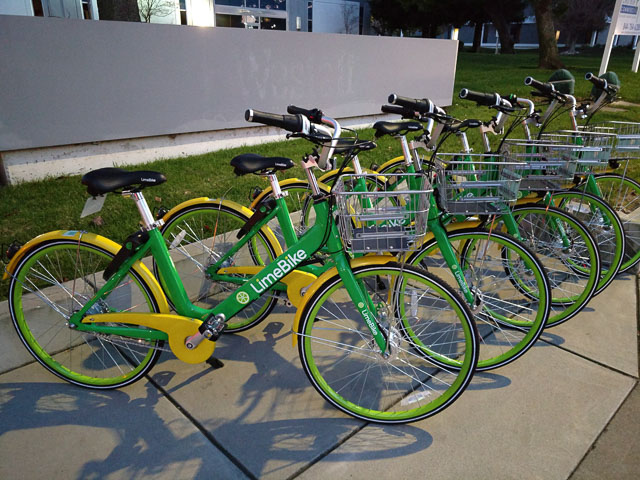 Thanks to everyone who pointed out that the San Mateo-based bikeshare company called LimeBike is now operational at Shadelands in Walnut Creek. One reader sent the above photo at the bus stop on Wiget Lane near Mitchell Drive. Interestingly, it's dockless so after scanning it from an app it can be dropped off anywhere.
From the Shadelands bike share page:
Dockless bike sharing has rolled into Shadelands with an easy-to-use, high-tech bikeshare program through LimeBike, a San Mateo-based firm that is deploying 500 smart-bikes throughout the 267-acre Shadelands business center enabled with GPS, 3G wireless technology, and self-activating locks.

LimeBike is revolutionizing mobility in Shadelands by empowering people with a fast, healthy, and affordable transportation option. The bicycle has the potential to solve the first and last mile problem in mass transportation, and by utilizing modern mobile technology and a dockless program, LimeBike makes bike sharing universally affordable and available.

The Shadelands Bikeshare Program is free to Shadelands employees. Get ready to hop on: Download the LimeBike app now on your iPhone or Android and sign up with your Shadelands business domain address.