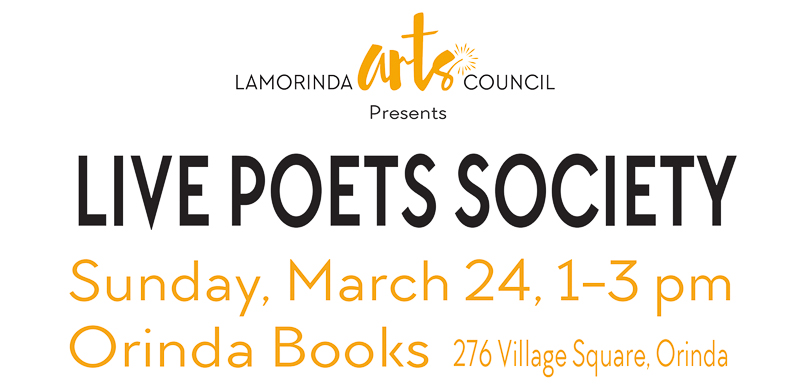 Lamorinda Arts Council's Poet Laureate Amy Glynn Hosts "Live Poets Society":
Orinda Books
276 Village Square, Orinda
Sunday, March 24th, 2019
1:00 – 3:00pm | Free

The featured writers for March 24, 2019 will be Sojourner Kincaid Rolle and Connie Post.
Sojourner Kincaid Rolle is a poet, playwright, peacemaker, and community activist, and was 2015-2017 Poet Laureate of Santa Barbara, CA. She is the author of Common Ancestry (Mille Grazie Press, 1999) and Black Street (UCSB Center for Black Studies Research, 2009). Her bilingual book of poems for young people, The Yellow Mellow Global Umbrella was published in 2019 by Lucky Penny Press. Her recent work has been published in several anthologies including To Give Life a Shape (SBMA, 2017) and Looking Backward, Moving Forward (SBMNH, 2018).

Connie Post's work has appeared in Calyx, River Styx, Slipstream, Spoon River Poetry Review, Valparaiso Poetry Review and Verse Daily. Her first full length book, Floodwater (Glass Lyre Press) won the Lyrebird Award. She is the winner of the 2016 Crab Creek Poetry Award and the 2018 Liakoura Award.