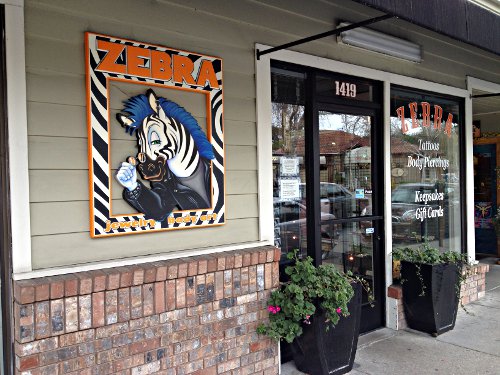 Zebra Tattoo & Body Piercing, located at 1419 Broadway in downtown Walnut Creek near the Performance Bicycle store has been open since 2008 although they also have a shop in Berkeley for over 20 years. From their website:
Zebra Tattoo and Body Piercing art attracts interest like magic, lasts a lifetime, and stays young forever. With deep experience, insight and creativity our artists create magic especially for you. Zebra opened twenty years ago in the Bay Area and quickly became known for its high art of tattoo and body piercing backed with strict adherence to sterilization guidelines and its use of non-allergenic dyes. Zebra is committed to give you the safest, most artistic experience anywhere. We invite you to explore your creative vision with us.
How hip does this make downtown Walnut Creek now that it has a tattoo and body piercing parlor? Does anyone recommend this place?