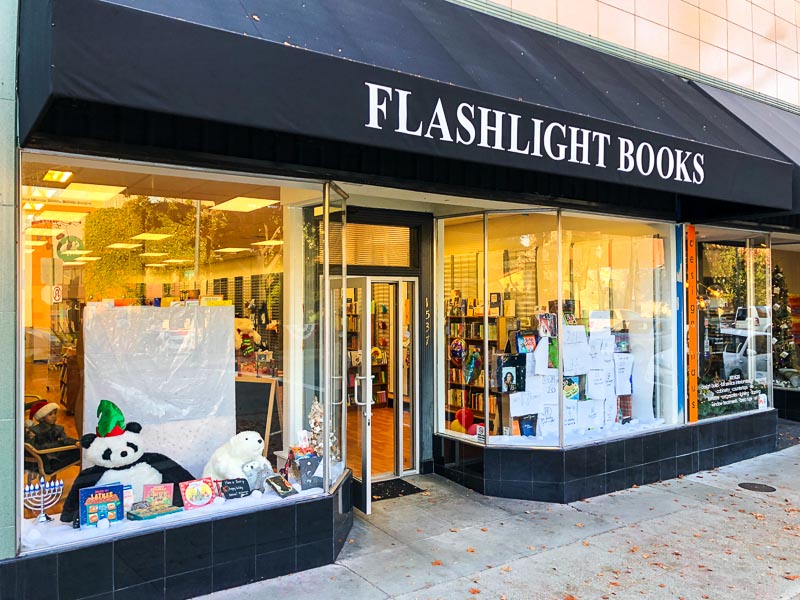 1537 N. Main St, Walnut Creek
Last April we learned about plans for an independently owned children's bookstore called Flashlight Books to open and they have now opened in downtown Walnut Creek. In order to open for the holidays they had to scale back the store design but after December 30th they plan on temporarily closing for two to three weeks for remodeling. This is a great addition to downtown with quite an interesting selection of stationery, toys and gifts that I haven't seen elsewhere so definitely check it out if you're in the area. On December 14th they will be hosting author Lynn Fulton where she will read from her new children's biography, "She Made a Monster: How Mary Shelley Created Frankenstein." followed by a "discussion on the creative process behind writing, and we'll all have some time to create monsters of our own through writing and/or illustration." Recommended kids ages 7 – 11. Check out the Facebook event here.
From their website:
Flashlight Books will be an independent bookstore dedicated to promoting a sustained love of reading in children – particularly in their teen and pre-teen years, when they most need the messages of empathy and the diverse viewpoints that books provide. We will be a space that is community-focused and celebrates curiosity, passion, and learning. In addition to being a store for books, we will host events, create a tutoring space, and run programs for kids and teens. Flashlight Books will aim to be a place where families feel welcomed, kids feel safe, and young adults feel supported.