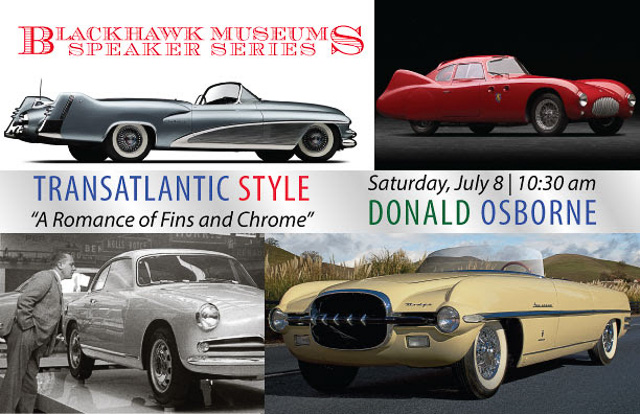 Donald Osborne – "Transatlantic Style":
Blackhawk Museum
3700 Blackhawk Plaza Cir, Danville
Saturday, July 8th, 2017
10:30am – 12:30pm | (included w/ museum general admission)

Automobiles designed and built in the decade and a half spanning the end of World War II and 1960 represented much beyond mere function. They served as the tangible expressions of progress, personal freedom, style and prestige for both the manufacturer and the consumer who drove them.

That this extraordinary moment in time, which saw the creation of some of the most important, dramatic and memorable automobiles in both America and Italy has not been examined and celebrated before now seems hard to believe. Any true review of 20th century design and the effect of World War II on automotive design must include a close look at this dynamic and fascinating period of creative exchange between two automobile loving nations.

Donald Osborne is a classic car consultant, appraiser, historian and writer. He's seen by millions of CNBC Primetime viewers on 'Jay Leno's Garage' in his regular feature 'Assess & Caress with Donald Osborne'. His Speaker Series presentation will be from his book, 'Transatlantic Style' and discussing how American stylists and manufacturers looked to incorporate the design heritage, native artistic spirit and abundant artisan talent available in postwar Italy to lend prestige, glamour and sophistication to their mass-production vehicles.