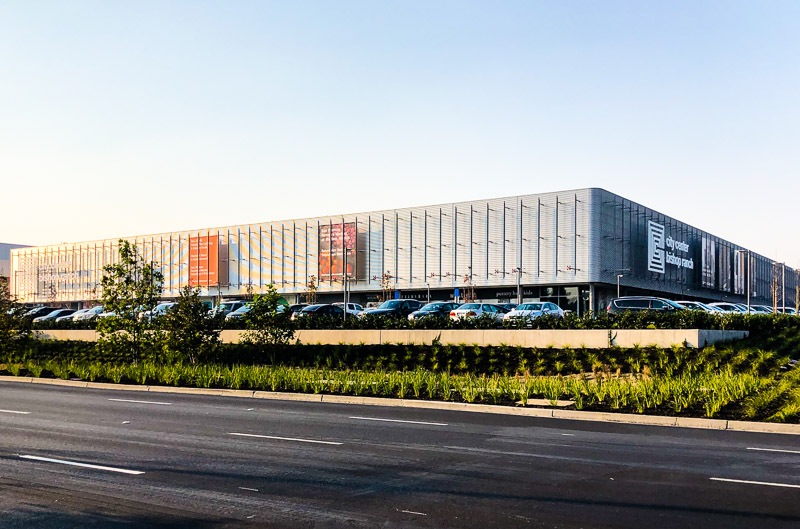 City Center Bishop Ranch, San Ramon
A new shopping center called City Center Bishop Ranch opened in San Ramon on Bollinger Canyon Rd, across from Shops at Bishop Ranch. There are currently 29 shops, restaurants and a gym listed on their directory, including Berkeley-based Fieldwork Brewing Company (which was PACKED), with Slanted Door and Roam Artisan Burgers opening later this year followed by Ramen Hiroshi, MIXT, Curry Up Now and more eateries opening next year. The place I most wanted to try, Boba Guys, is soft open on weekdays only until their grand opening December 1st. The LOT, a 10 screen movie theater and restaurant will be open in a couple of days, As for stores, West Elm, Pottery Barn, Williams Sonoma, Athleta, Candle Delirium and smaller boutiques are open now with Anthropologie opening next spring. The gym Equinox is scheduled to open by year end.
The two story rectangular shopping center features a plaza in the center with a grass play area for children (not dogs) with large building blocks, a patio with a water play area for children, and a separate area with seating where live music may be performed. Some interesting aspects of the mall are the food trucks stationed right outside, as well as the falcon to scare off problem birds. (See photos after the jump for a closer look). The parking garages are hidden inside which is a nice touch; just note the stores when you enter the mall so you'll remember how to get back to your car!
How does City Center Bishop Ranch compare with recently built or remodeled local malls such as Broadway Plaza in Walnut Creek and The Veranda in Concord? There are quite a few similarities and differences among the malls but as I strolled down the second floor pathway looking at the stores on the other side on both levels it reminded me a bit of Sunvalley shopping center in Concord, only outdoors. Unlike Broadway Plaza where each store has its own look and feel, all the stores at City Center Bishop Ranch have huge windows with only the store signs having their own design. That will make it much easier as new stores get replaced, but far less interesting.
As you can see from the photo of the outside, some might see a volume "floating" over the street level, as noted by the Renzo Piano Building Workshop while others might view it as a monolithic monstrosity in a box. The inside fares better with the plaza at center, however it's still quite monotonous throughout. Nevertheless, with numerous eateries, a movie theater, shops and boutiques, it will no doubt become a popular shopping destination. I know I'll be back, if only for a Boba Guys drink.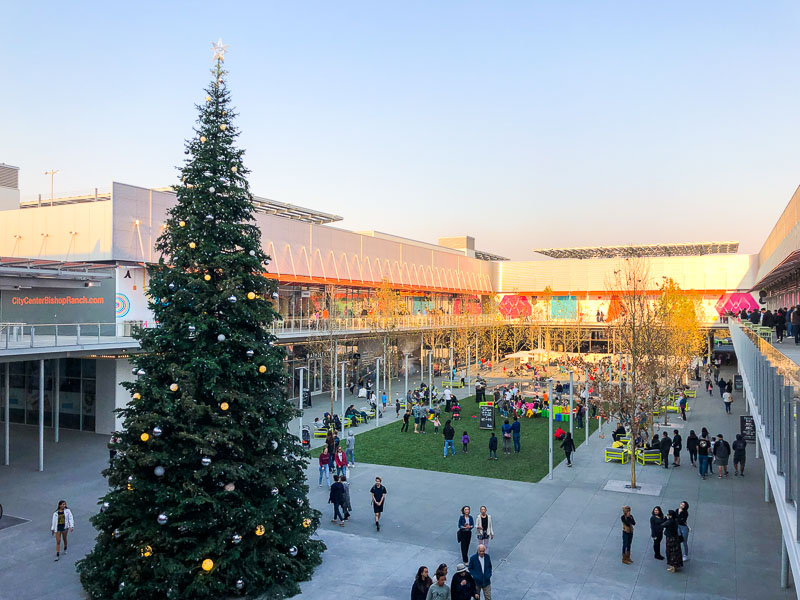 More photos including the falcon, food trucks and stores after the jump…