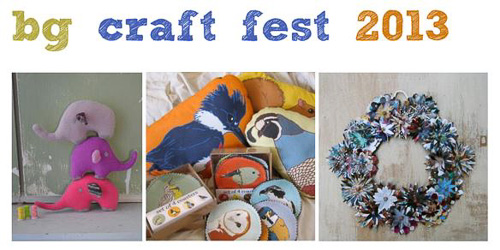 Bedford Gallery
1601 Civic Dr. Walnut Creek
Sunday, November 3rd, 2013
11:00am – 5:00pm | Free

On November 3, 2013 the Bedford Gallery will host its Sixth Annual Bg Craft Fest, a celebration of handmade gifts. Featuring everything from jewelry to home goods, this curated festival brings together the best of Bay Area crafters and artists. Held inside the gallery, this event is a twofer; visitors can shop the Craft Fest and see art – all free.

The Bg Craft Fest is the perfect opportunity to get a head start on holiday shopping. Visitors can find one of a kind gifts for everyone on their list at this popular event. Craft Fest regulars including Shimmer Jewels, MODify/d, and Multiflasking are back and plenty of new surprises have been added too.

This year features an expanded selection of food vendors; Mollie Rose Baking Company is new this year with vegan baked goods, candies, chocolates, and jams. Sprouted Minds, started by Cal senior Michael Assayag, will offer food bars made from organic, raw, and sprouted ingredients. If you're looking for snacks to share with family and friends, check out PopMomaPop's line of hand-shaken kettle corn and heirloom kernels.