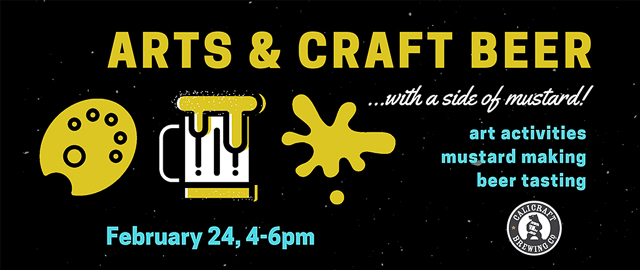 Arts & Craft Beer – with a side of mustard!
Bedford Gallery
1601 Civic Drive
Saturday, February 24th, 2018
4:00 – 6:00pm | $7

Join us for an enjoyable afternoon of art activities and learn how to make your own mustard. Complimentary refreshments will be served, including beer tasting from Walnut Creek-based Calicraft Brewing. The entire family can hang out, see Ned Kahn's Seed Vortex exhibition, enjoy refreshments, and make something cool!
Art activities for all ages: Make a fun multi-media artwork with mustard seeds and explore the convergence of art and science with Spirograph drawings.
Mustard making: Learn how to make your own mustard from Chef Jacob Croom (Tartine Manufactory, Kronnerburger, Salesforce) and Baker Jaren Wilkinson (Tartine Manufactory & Bakery, Pain Bakery). There will be drop-in stations to mix your own mustard to take home. The mustard-making process takes approximately 20
minutes and will be happening through the length of the event while supplies last.