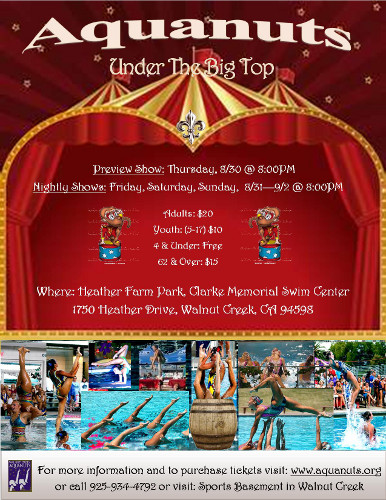 From the Aquanuts website:
We hope that the Aquanuts will blow your mind as we combine two amazing arts… the Olympic Sport of Synchronized Swimming and the Circus Acts typically performed Under the Big Top. Right in your own backyard; Heather Farms Park, Walnut Creek!

This year's show will feature synchro, contortion, juggling, lights, colors, food, drinks and plenty of splash!

The swim show takes place at the Clarke Memorial Swim Center, Heather Farm Park, Walnut Creek.

Preview Show: Thursday August 30 @ 8 p.m.
Nightly Shows: Friday, Saturday, Sunday August 31st to September 2nd at 8:00 p.m.
Doors open 45 minutes prior to show time nightly.

Tickets are $20 for general admission, $15 for seniors (62 & over) and veterans, and $10 for youth (5-17 years of age). Children four and under are free. All proceeds from this event will directly support WCA athletes and coaches. Tickets can be purchased on-line or at Sports Basement, 1881 Ygnacio Valley Road, Walnut Creek. For more information call 925-934-4792, or use Contact Form to email us.