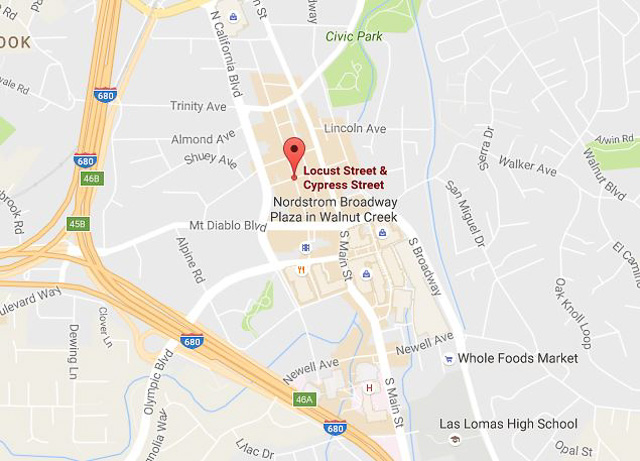 Via Google maps
Previously we learned about a homicide in downtown Walnut Creek early Saturday morning. The Walnut Creek police have posted an update below.
From the Walnut Creek PD:
Early this morning at 1:28 AM our officers heard sounds of gunfire coming from Locust Street. Our Communications Center also began to receive calls of shots fired on Locust Street at Cypress Street.
Our Officers immediately responded to the location and found Courtney Brown suffering from three gunshot wounds to his back. Officers had him immediately transferred by ambulance to John Muir Medical Center where he later succumbed to his injuries. Sadly, Mr. Brown leaves behind a daughter and fiancé. Courtney Brown was 38 years old and was a resident of the Bay Area. It appears he was a patron at Crogan's Sports Bar and Grill prior to the shooting.
At the time of the shooting both Redux Lounge and Crogan's Sports Bar and Grill were closing and patrons were coming out of the night clubs.
Witnesses reported seeing the shooting and said the responsible was an African American male in his twenties, approximately 6 feet tall and 160 pounds. The responsible was last seen running west on Cypress towards California Boulevard and then South on California Boulevard. Officers and K9's searched the area but were unable to locate the responsible.
Walnut Creek Police Detectives are following up on multiple leads and this is an extremely active investigation. All information thus far indicates this was not a random event.
We are hoping more persons will come forward with information regarding the shooting death of Mr. Brown. If you have information about this case please contact Walnut Creek Police Detective Leonard at 925.256.3523 or the Walnut Creek Police Departments Anonymous Tip line at 925.943.5865.