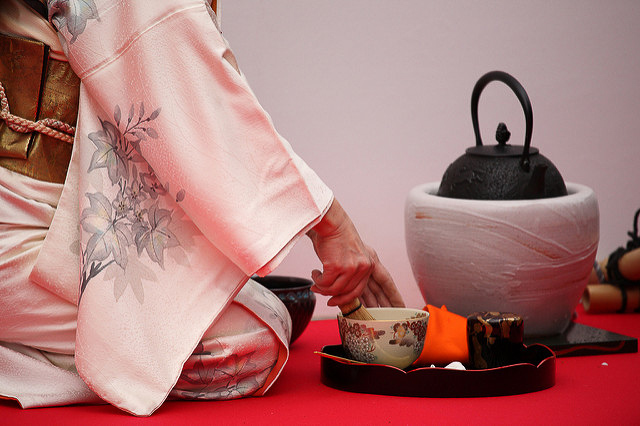 Photo by Flickr user mrhayata
The Japanese Tea Ceremony: Serenity for the Ages:
Ygnacio Valley Library
2661 Oak Grove Rd, Walnut Creek
Thursday, January 11th, 2018
6:30pm | Free

On Thursday, January 11, 2018, at 6:30 PM, tea teacher Ikuko Kubo Thomas will present the art, meaning and beauty of the Japanese Tea Ceremony at Ygnacio Valley Library. Guests will have the opportunity to experience a small part of the Tea Ceremony and partake of matcha tea prepared at the time.

"The Japanese Tea Ceremony, Chanoyu, has been the core of Japanese culture and has formed the Japanese way of thinking, as well as the Japanese sense of beauty, for centuries," Thomas explains. From the brutal samurai period of the 1600's through the frenzied modern life of the 21st century, the fundamental precepts of the Japanese tea ceremony have remained the same: hospitality, harmony, respect, purity, and tranquility of spirit. "We all benefit from the atmosphere, the beauty, the movement, the quiet sounds, and the attention to detail presented by the host while enjoying a lovely bowl of warm matcha with all of its health benefits."

Ikuko Kubo Thomas (tea name Kubo Ikusen) is a certified Tea Teacher of the Dai Nihon Chado Gakkai school [Greater Japan Association of Tea]. As the only certified teacher for her tea tradition in this area, Thomas has been honored to represent Dai Nihon Chado Gakkai at the annual Hakone Chakai tea ceremony festival at Hakone Gardens in Saratoga, California. Formerly a school teacher, Ikuko Thomas lives in Walnut Creek with her husband Rick Thomas, and teaches the Way of Tea in the teahouse he built for their home.