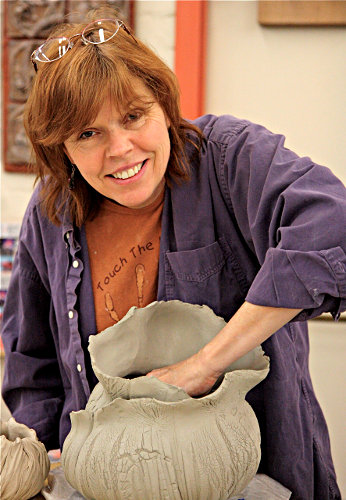 photo by Jeanie R. Wakeland
From an email:
WHEN: April 27 (5-9 p.m.) April 28 (10 a.m.-7 p.m.) April 29 (10 a.m.-4 p.m.)
WHAT: Artists' Market
WHO: Clay Arts Guild
WHERE: Civic Arts Education Studio, 1313 Civic Drive, Walnut Creek
INFO: 925-943-5846, www.clayartsguild.com

The burst of green grass on Mt. Diablo and colorful wildflowers on the hillsides stimulate many gardeners to think about brightening their own yards and patios with plants, water features and garden decoration.

But where can they get unique pots and garden ware in which to put those plants?

The Clay Arts Guild (CAG) will focus on outdoor garden pots and garden decoration at the Artists' Market spring sale on April 27-29. A reception with live music, light refreshments and a flower-arranging demo kicks off the sale from 5-9 p.m. April 27. The sale continues April 28, 10 a.m.-7 p.m., and April 29, 10 a.m.-4 p.m. at the Civic Park Studio, 1313 Civic Drive in Walnut Creek.