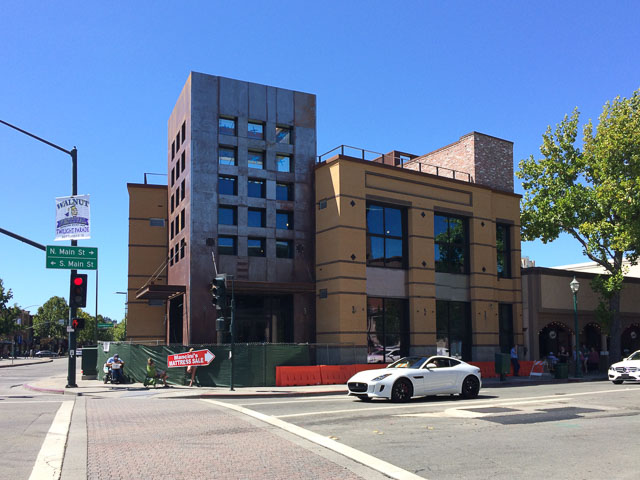 1500 Mt. Diablo Blvd, Walnut Creek
Pizza fans rejoice! Slice House by Tony Gemignani is coming to the 1500 Mt. Diablo building at the corner of Mt. Diablo Blvd. and Main St. in downtown Walnut Creek. The projected opening is scheduled for January, 2016. They will be open for breakfast, lunch, dinner and late night. Check out their 2nd St. San Francisco menu here. Look for updates on their Walnut Creek website here. According to the developer, the Walnut Creek location will feature:
Imported Italian Triple Stack Brick Ovens
Traditional and Artisan Slices made with an array of authentic sauces and seasonal ingredients
New York, Sicilian, Grandma, California Style
Multi Ancient Grain Pizzas
House made – Pasta and Italian Sausages
Hand Pulled a Mozzarella
Several Salads and cold Pasta Salads
Panini, Subs
Gourmet/third wave coffee from North Beach such as Cafe
Roma and Cafe Trieste
Cold Press Juices
Soup from scratch
Gelato and Tiramisu
From the developer:
We're very excited that our last and smallest space which is on the ground floor at Mt. Diablo & Commercial Lane will be a Slice House by Tony Gemignani, which will be his first location in the East Bay.


Tony's a culinary rock star in the city, so we're excited to be able to help bring such a celebrated chef to WC.  There are a lot of pizza places opening up in the area but Tony is the best there is …it doesn't get much better than that so he's the icing on the cake for our building.

Slice House is Tony's quick-serve concept with pizza-by-the-slice and much more, and we feel it will fill a niche of high quality quick-serve, non-chain food  that is not being filled currently.  And to boot, he'll be open breakfast, lunch, dinner and late night so 4 day parts which is a huge plus.
From the Slice House website:
Tony Gemignani has received a number of accolades for his impressive pizza making and throwing skills. He is president of the World Pizza Champions; the first and only Triple Crown winner for baking at the International Pizza Championships in Lecce, Italy; and, his most prestigious title to date, the 2007 World Champion Pizza Maker at the World Pizza Cup in Naples, Italy, where he was the first American and non-Neapolitan victor. He has appeared on popular shows like The Tonight Show with Jay Leno, Good Morning America, and is a regular on Food Network. Gemignani also received his Master credentials from the Scuola Italiana Pizzaioli and is the proprietor of the International School of Pizza where he certifies chefs from around the world. His most impressive accolade to date is being named the official U.S. ambassador of Neapolitan pizza by the city of Naples, a prestigious title only given to three people in the entire world. In 2011 and 2012 Tony won two world titles in cooking, making him an 11 time world champion.

Tony now owns 8 pizzerias (and more coming soon) across the country and is happy to present Slice House to San Francisco.