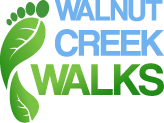 From the City of Walnut Creek website:
Mayor Bob Simmons will lead a walk in Rossmoor on Saturday, Aug. 11 as part of his "Walnut Creek Walks" initiative.
While Rossmoor is a gated community, this Second Saturday Walk is open to the general public.
The walk begins at 8:30 a.m. at the Tice Valley Gymnasium parking lot, and will cover slightly more than 4 miles and 450 feet of elevation. Participants should be in good physical condition and able to hike on uneven terrain as walkers venture into the open space.
Walkers will go from the Tice Valley gym through the Rossmoor gate, and then go up the steps just inside the gate until they reach the rock on which the initials "JWT 1855" are etched into the rock.  'JWT' are the initials of James William Tice.
The hike will continue on the trails in the open space on the northeast side of Rossmoor, ultimately leaving the open space and walking down to the Creekside Complex before returning to the Tice Valley gym.
There is no need to register in advance. Walkers should wear sunscreen and a hat, and bring water. Departure time is firm, so please don't be late!
To learn more about Walnut Creek Walks, visit www.walnut-creek.org/walks.