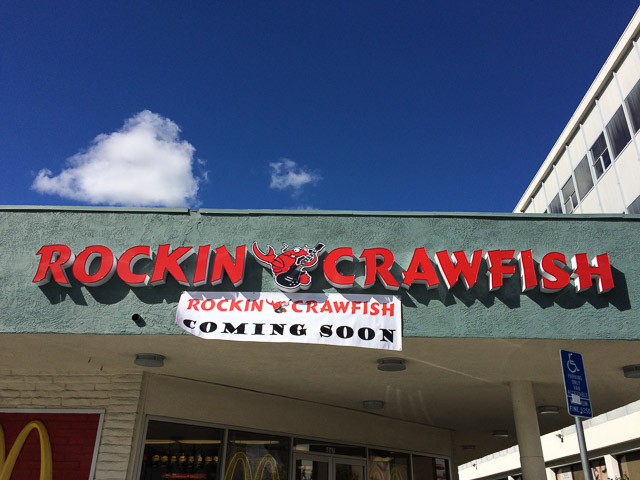 1847 Willow Pass Rd, Concord
Oakland-based Cajun/Creole restaurant Rockin Crawfish is opening in a new location this month in the Park 'N' Shop on Willow Pass Rd. in Concord (right behind McDonald's) according to their Facebook page. Check out their Oakland menu here.
From their website:
Our delicious seafood has a uniquely Cajun flavor that we know you will love. We also offer a full line of beverages including both Domestic and Imported Beers, Sake, or delicious Sakitinis served with  your choice of fruit from lychees to mango or peach. 

For starters we offer an appetizer list that is sure to have something you're craving.  Choose from Cajun chili cheese fries or Buffalo wings to seafood gumbo or oysters on the half shell, but remember to save room for your main course!

On our menu you will find great Cajun seafood offerings including crawfish, crab, shrimp, clams and oysters, and for families we've included some kid friendly items as well, like chicken strips with fries. Add your choice of sides, including rice, potatoes or corn, and your dinner is complete. And dPark 'N' Shopon't think we've forgotten about desert – you will love our fried Oreos with strawberries and ice cream.