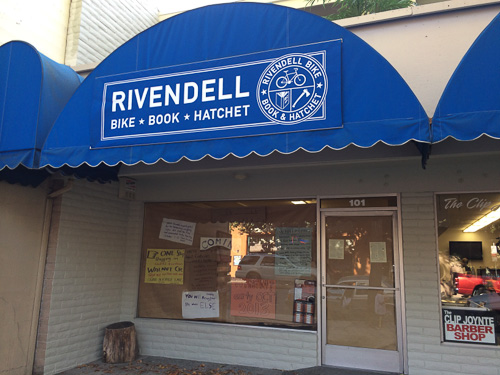 1601 N. Main St, Walnut Creek
A new showroom featuring bikes, books and hatchets called, appropriately enough, Rivendell Bike, Book & Hatchet is opening on N. Main St. in downtown Walnut Creek this coming Monday, October 21st. When I first met the owner and he told me the name and what he was planning on selling I thought he was joking, but it's true; they have been making their own 'lugged steel bicycle frames' in Walnut Creek since 1994. Check out their complete bike selection here.
From their website:
Our mission is to make things that wouldn't be made if we weren't here, to offer an alternative to racing-centric bikes and parts, and to espouse a different approach to riding. And to resurrect and keep healthy many of the better ideas, designs, and styles of bicycles, clothing, and accessories that we personally like to use or wear. If you'd like to know more, just ask. It's not a secret business we have here, and nothing's too personal or private. -Grant
In addition to high-end road and touring bikes, they will also feature a custom selection of books (including children's books), hatchets (for wood chopping). They even have their own clothing brand, called MUSA and also sell high-end clothing from Australia, New Zealand and England, and various odds and ends you won't find anywhere else in downtown Walnut Creek.
From their clothing page:
You don't need bike-specific clothing to ride a bike, and so mostly we sell normal-looking clothes that are secretly superb for cycling, and every bit as good off the bike, too. MUSA is our own brand. It means Made in the U.S.A., and nobody else sells them. We ride and work and hike and shop and dine in these all year round. The non-MUSA clothing generally comes from Australia, New Zealand, or England. Everything's good.
I travel to NYC every now and then and this is the kind of store I would expect to see in SoHo or the LES, but Walnut Creek?! Incredible. I can't wait to check it out when it opens next week!
Check out this sweet custom made poster of their shop: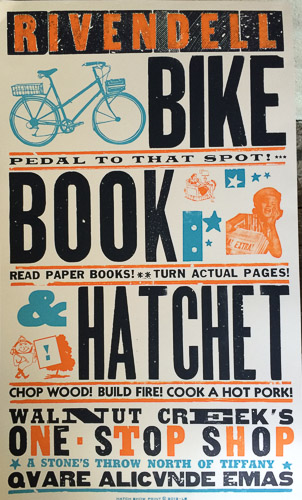 Photos of their HUNQAPILLAR bike, books, hatchets and clothing after the jump…
HUNQAPILLAR bike: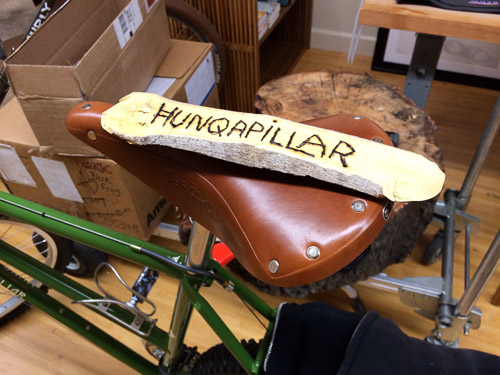 Book selection: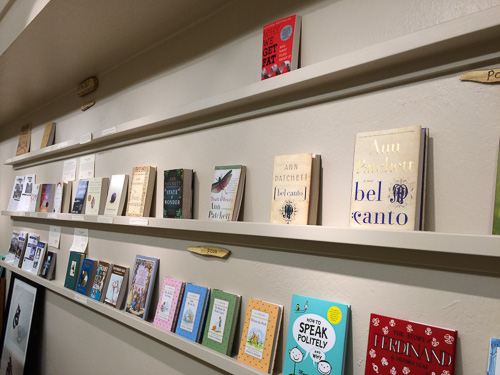 Hatchets and clothing section: