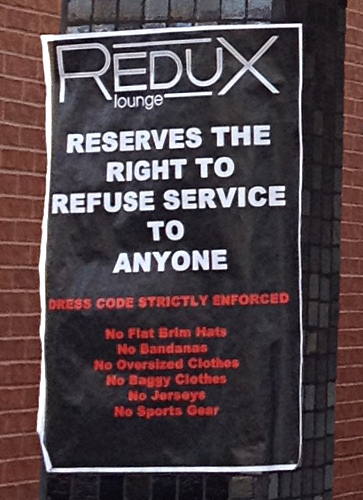 Over the past few months Walnut Creek has experienced a fair amount of alcohol-related incidents late at night and in response, the Walnut Creek city council has taken steps to address the issue like cutting hours that bars can serve alcohol and beefing up weekend patrols. Meanwhile local bar owners say they are committed to safety and and security improvements.
Take a look at this recent notice put up at Redux Lounge in downtown Walnut Creek on Locust St. It says:
Redux Lounge
RESERVES THE RIGHT TO REFUSE SERVICE TO ANYONE
Dress code strictly enforced
No flat brim hats
No bandanas
No oversized clothes
No baggy clothes
No jerseys
No sports gear
Do you feel the bar owners have taken heed and will be stricter in enforcing drinking rule limits? Or is not enough being done about this problem?