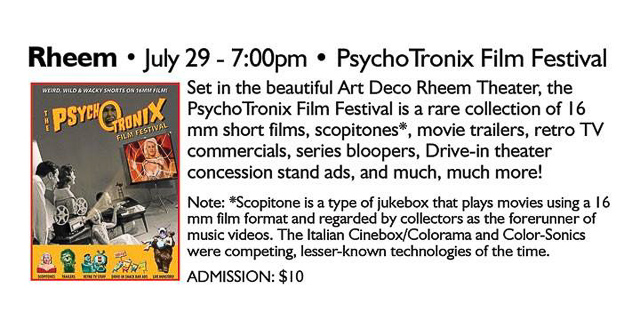 PsychoTronix Film Festival:
Rheem Theatre
350 Park St, Moraga
Saturday, July 29th, 2017
7:00pm | $10

Set in the beautiful Art Deco Rheem Theater, the PsychoTronix Film Festival is a rare collection of 16mm short films, scopitones*, movie trailers, retro TV commercials, series bloopers, drive-in theater concession stand ads, and much, much more!

Note: *Scopitone is a type of jukebox that plays movies using a 16mm film format and regarded by collectors as the forerunner of music videos. The Italian Cinebox/Colorama and Color-Sonics were competing, lesser-known technologies of the time.