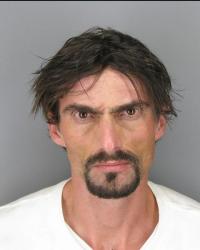 From the Walnut Creek Police:
On May 1, 2012 at approximately 11:35 A.M., Walnut Creek Police Officers responded to the 2800 block of Mi Elena Circle in Walnut Creek for a report of an in-progress residential burglary. The suspect fled the house in a white Honda Civic. A Walnut Creek Police Officer spotted the vehicle fleeing the scene and attempted a traffic stop. The suspect (later identified as Keith Patrick Buchanan) actively attempted to elude the officer with his vehicle and a pursuit was initiated. The officer pursued Buchanan onto Oak Grove Road and then onto eastbound Ygnacio Valley Road into Concord. The pursuit was cancelled for public safety reasons. The Concord Police Department located Buchanan's vehicle abandoned on the 5300 block of Green Meadow in Concord and started a search for Buchanan. Citizens reported Buchanan had hopped over several fences in the neighborhood. A short time later a Walnut Creek Detective Sergeant caught Buchanan on Murchio Street near St. Dustan in Concord. Buchanan was positively identified as the suspect in the residential burglary and the evading of a police officer. He was arrested for residential burglary, evading a police officer and probation violations. He is currently in-custody with the Contra Costa Sheriff Office on a $170,000 bail.
Anyone with additional information is asked to contact the Walnut Creek Police Department Detective Moorhouse at (925)943-5877.