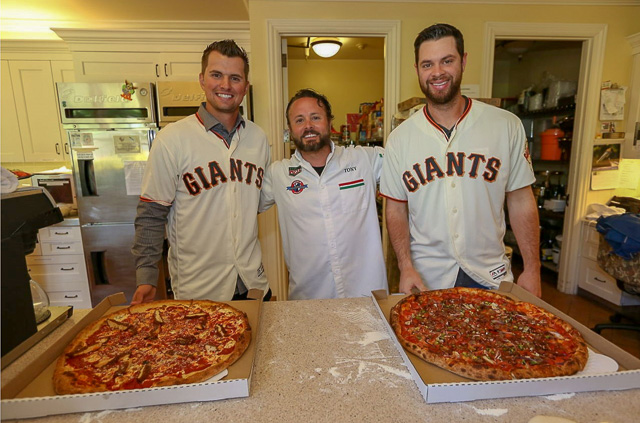 From left to right: Joe Panik, Tony Gemignani, and Brandon Belt
Photo credit: Austin Ginn, MLB.com
Two new pizza pies are available at Slice House in downtown Walnut Creek with $1 from each slice/$6 from pies going to support George Mark Children's House. Available now through September 19th.
Panik Parm Pie
breaded chicken cutlets, sliced Mozzarella, tomato sauce, garlic, grated Parmigiano, oregano and olive oil
Belt's Monster Meat Pizza
pepperoni, sausage, bacon, red and green onion, bell pepper, shaved Parmigiano and Romano cheeses and a side of chili oil
For the third year in a row, Tony Gemignani is teaming up with San Francisco Giants Joe Panik and Brandon Belt to benefit the George Mark Children's House, this year with a more aggressive fundraising goal and an added location to sell the charity pies. From May 17-September 19, $1 from each players' custom slice and $6 from each full pie sold will be donated to the House, which offers life-affirming care and comfort for children and their families. This year, the trio's goal is to raise $12,000.