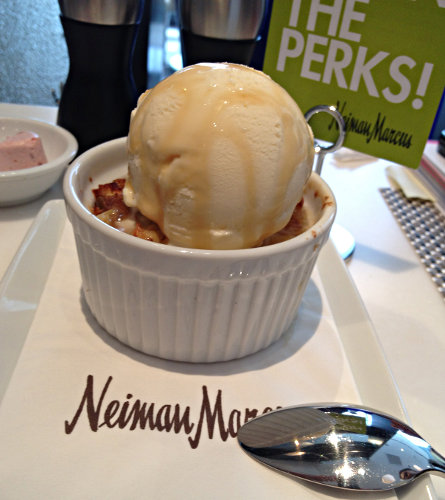 Back in April I raved about the Neiman Marcus Cafe popovers in downtown Walnut Creek thanks to the first ever Walnut Creek restaurant week in which I was able to eat lunch there for a reasonable $20 which included an appetizer, entree, dessert and those delicious popovers, with strawberry butter of course. It looks like I wasn't the only one to take advantage of the special prix fixe menu because the Walnut Creek NM Cafe has decided to offer a prix fixe dinner option year round, for $30. The menu will change weekly and the full menu will still be offered as well.
I had a chance to dine there last week (Kristi Yamaguchi was sitting a few tables away), and as you can see, both the dessert and entree look (and tasted) amazing. The photo above is the "Apple Brown Betty", consisting of warm sweetened brioche & caramelized apples topped with vanilla and caramel sauce, and below feast your eyes on the chili-lime glazed scallop: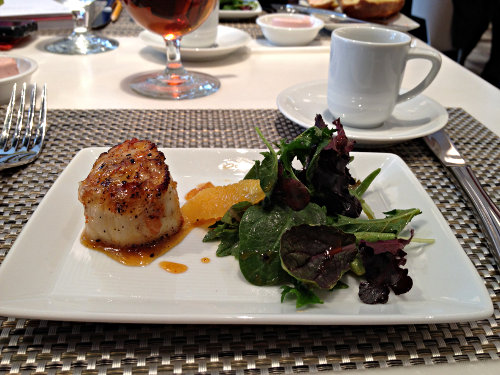 I also had a chance to try some other dishes and my favorites were the short rib pasta with house-made pappardelle pasta, cabernet marinara, parsnip puree, pistachio-parmesan persillade, and blackened Mahi consisting of rouille shrimp risotto, cajun Beurre Blanc, roasted corn & poblano relish. This week's menu offers the short rib pasta and pan-seared Mahi Mahi.
These dishes come from executive chef Santana Diaz who I briefly met: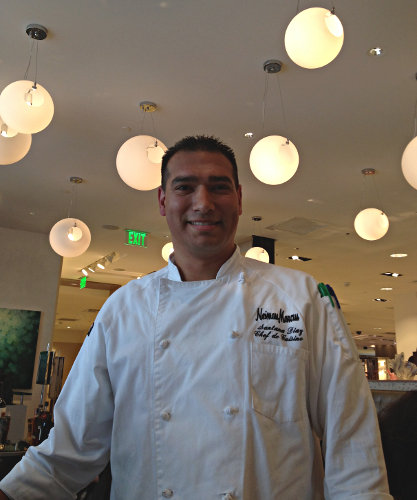 Santana has worked in the culinary world for many years, includes stints as the sous chef for the Sacramento Kings, including coaches, player's families and celebrity VIPs, as well at Taste and The Firehouse in Sacramento.
We will be offering a last seating at 8PM Monday-Friday, Saturday last seating at 7PM, and last seating Sundays at 6PM. Along side the full menu offered daily we will also have a 3 course prix fixe menu offered for $30 per person! Customers may choose the entree-only option from the prix fixe menu if they do not want all three courses as well. The entrees for the prix fixe menu will always offer one seafood entree and one "land" entree for variety and I will be changing the entree options for the prix fixe every week to keep it original. We will also offer a special soup, salad, sandwich, entree, and dessert which will change daily and offered concurrent with the regular menu and prix fixe menu.
The Neiman Marcus Cafe is located on the 2nd floor of Neiman Marcus at the corner of Main St. and Mt. Diablo Blvd. across the street from Tiffany & Co.