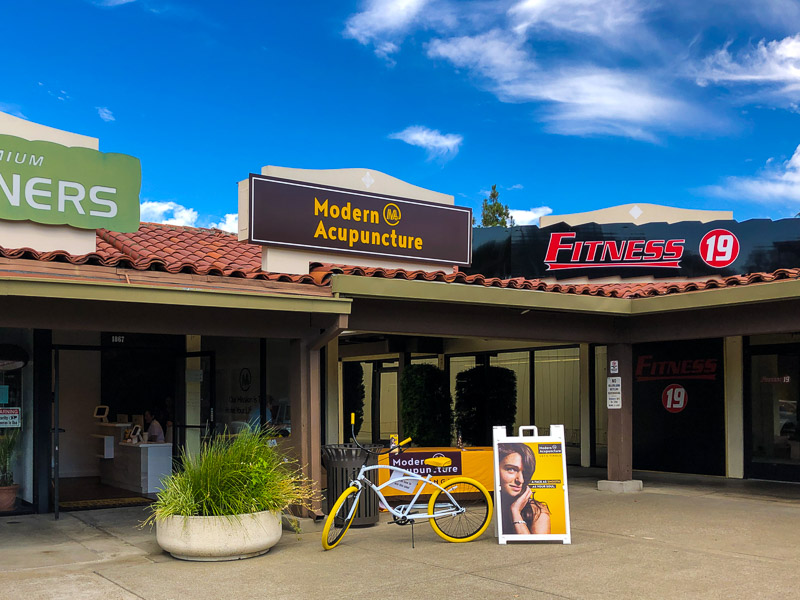 Ygnacio Plaza, Walnut Creek
I was checking out Sports Basement at Ygnacio Plaza in Walnut Creek recently when I realized that Modern Acupuncture opened. Find out more about their services here.
I had never tried acupuncture before but since they just opened I was able to try a free 30 minute session. The communal area in back has numerous reclining, heated massage chairs separated by curtains for semi-privacy. It's quiet with TV screens showing nature scenes with soft music playing in the background. You take your shoes and socks off sitting or lying on the chair and wait for the acupuncturist to come where she asks about problem areas. I mentioned my back and stress and eventually she applied several needles to my hands, feet and head in particular areas to help with these problem areas. Then she left for 20 minutes while I tried to relax with needles sticking out of me. Eventually I got used to it and she came back to remove the needles. Although it's not like a massage where I get instant relief, I did feel noticeably better later on which pleasantly surprised me. Not sure if this is a placebo affect but I actually feel like it worked better than a massage. If you're thinking about trying it out I recommend checking this place out!