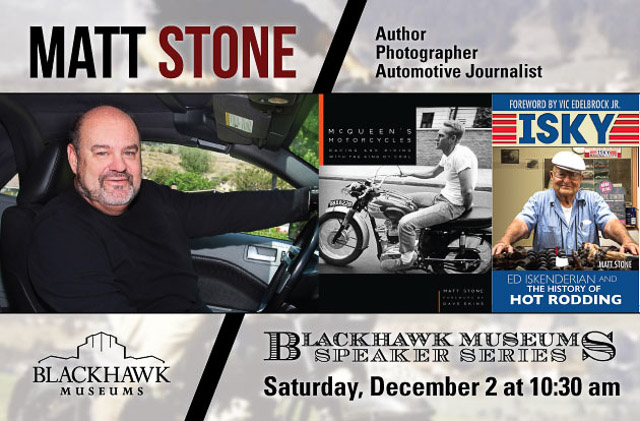 Matt Stone "Author / Photographer / Automotive Journalist":
Blackhawk Museum
3700 Blackhawk Plaza Cir, Danville
Saturday, December 2nd, 2017
10:30am – 12:30pm

We are pleased to welcome back to the Blackhawk Museums, author Matt Stone to talk about his two new books; Isky, The Ed Iskenderian Story & McQueen's Motorcycles: Racing and Riding with the King of Cool.
Matt Stone is an automotive freelance journalist, author, broadcaster, Automotive Event Emcee, book author, and former Editor, Motor Trend Classic magazine. He has been a full time professional AUTOMOTIVE JOURNALIST / photographer since 1990 and has authored and photographed more than a dozen automotive book titles with more in process, and has been published in dozens of magazines worldwide.
Matt enjoys anything with four wheels, though demonstrates a particular passion for sports, performance, and sports racing cars. He's a Chief Class Judge at the Pebble Beach Concours d'Elegance, a judge at the Amelia Island Concours d'Elegance, and officiates and emcees at other first tier shows and events. He serves his profession as a past Officer and Board of Director member, and past-President of the Motor Press Guild (MPG) trade association.