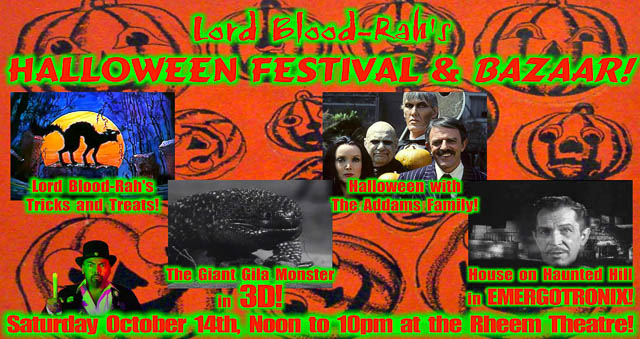 Lord Blood-Rah's Halloween Festival & Bazaar:
Rheem Theatre
350 Park St, Moraga
Saturday, October 14th, 2017
12:00 – 10:00pm | $25

A Day Long Event Celebrating EVERYTHING Halloween!

On the screen you'll see..

Lord Blood-Rah's Tricks and Treats!
ALL NEW FOR 2017! Hand picked short films, music videos and celluloid knic knacs to set the Halloween mood!

The Giant Gila Monster in 3D!
The 1959 Giant Lizard classic presented here for the first time ever in 3D!

Halloween with The Addams Family!
The rare TV Special that reuinted the original cast of the beloved TV Show ON THE BIG SCREEN!

House on Haunted Hill presented in EMERGOTRONIX!
The Vincent Price/William Castle Classic made all the more terrifying through the miracle of Emergotronix!

PLUS Horror, Sci-Fi and Halloween merchandise on sale in the lobby!