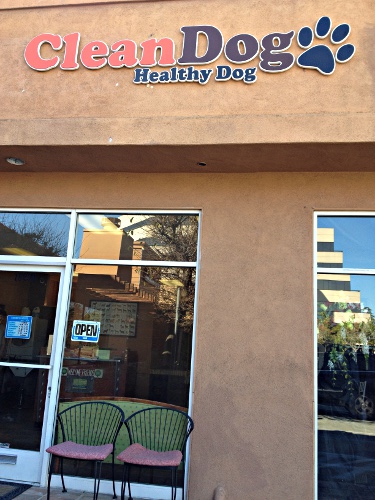 After finding out that the dog wash and grooming sign that was featured on BtCreek a few months ago was stolen recently, I now present to you the store behind the sign, Clean Dog Healthy Dog. Located at 1829 Mt Diablo Blvd in downtown Walnut Creek next to Alborz Persian Cuisine restaurant, they have been in business for about 7 months, and one of the  owners is originally from Wales, in the United Kingdom, where his sister owned a dog grooming salon. He met his American wife over there and they decided to settle in Walnut Creek to start their dog wash and grooming business.
Check out the cool portraits below. If I had a dog I would definitely try this place out as the owners are really friendly and knowledgeable and it looks well managed. If anyone has been please let us know how it was.
Finally, if anyone can make it happen, please return the dog head to them; I'm sure they would be thrilled getting it back, as well as the legions of drivers coming to town from Highway 24.