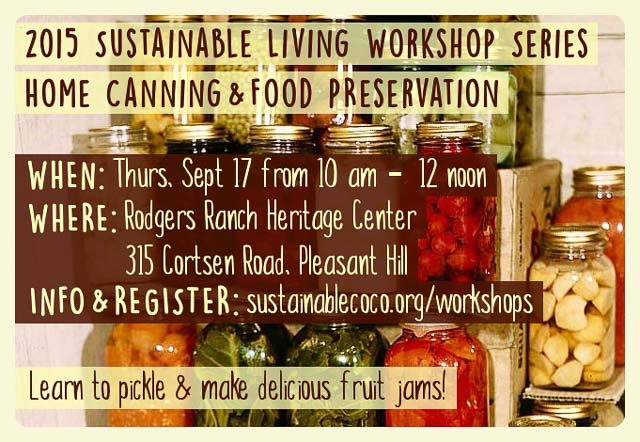 Home Canning & Food Preservation Workshop:
Rodgers Ranch
315 Cortsen Rd, Pleasant Hill
Thursday, September 17th, 2015
10:00am – 12:00pm | $20

Learn how to preserve the bounty of summer in this beginner's class on fruit jam and pickles.  Demonstration of the hot-pack method of fruit jam prepared without a canning kettle will take the mystery out of home-made jams. Students will also learn how easy it is to make their own refrigerator pickles and will take a jar of pickles home. Making flavorful vegetable chips in a dehydrator will also be demonstrated.
Bring one 1-pint jar with lid and screw-top band.

Class taught by Rosemary Mark, recipe developer and a long-time canner, using only quick and simple methods. Rosemary blogs from 'Rosie's Kitchen' at www.getcookingsimply.com where she shares delicious healthful recipes and cooking tips.