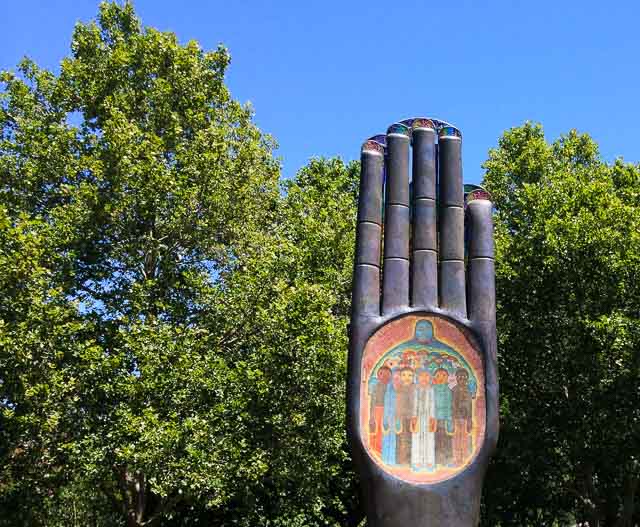 Hand of Peace Unveiling Ceremony:
Civic Park
1375 Civic Dr, Walnut Creek
Tuesday, September 16th, 2014
3:00pm – 3:30pm | Free

The public is invited to a celebration to welcome Beniamino Bufano's monumental sculpture, Hand of Peace to its new location in Civic Park. Walnut Creek Mayor Kristina Lawson will lead the event.

For 43 years, Hand of Peace, a 32‐foot public art sculpture by world renowned artist Beniamino Bufano stood tucked away in the Quail Court office park in south Walnut Creek.  Public art tours visited the sculpture often, but the piece, made from copper, mosaic and stained glass, was mostly hidden from public view – many residents and visitors to Walnut Creek never knew it existed.


The City of Walnut Creek is pleased to announce that in June 2014 the completely restored Hand of Peace was installed in Civic Park at the north entrance of the downtown Walnut Creek Library. Generously on loan to the City for 25 years by the William H.C. Chang family who acquired the work when they purchased the Quail Court property in 1967, Hand of Peace will continue to be a stop on the city's robust public art walking tour. In its new and central location, residents and visitors will have an opportunity to enjoy what was once a hidden treasure.

"We are grateful to the Chang family and to all the people who came together to bring Hand of Peace back to Walnut Creek," says Carrie Lederer, Curator of Exhibitions and Programs at Walnut Creek's Bedford Gallery. "This is a wonderful opportunity for Walnut Creek and the community – this piece will definitely be a place‐maker and one of those sculptures where people say: 'meet me at The Hand!'"
A Legendary Artist and His Work

Born in Italy in 1898, Bufano was one of the California's most colorful and beloved artists. He is known for creating artworks that were "big enough to belong to everybody, but too big for anyone to put in his pocket and call his own." A staunch pacifist, he strongly opposed military action and during his long career delved into the abstract renderings of peace and human collaboration.
Throughout his life, Bufano cultivated his identity as an irascible bohemian who preferred to live off the generosity of friends. He was known as much for giving his work away as he was for selling it, and seemed to relish his celebrity status. His legacy can be seen across the state and the nation, and his Bufano Society for the Arts promotes his work, as well as contemporary arts and arts education.