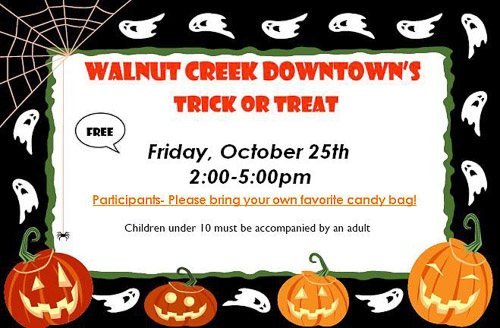 Downtown Walnut Creek
Friday, October 25th, 2013
2:00pm – 5:00pm | Free

6th Annual Downtown Trick-or-Treat
Friday, October 25th from 2-5pm

Calling all goblins, superheroes, princesses & witches!
You're invited to creep through downtown collecting Halloween treats from participating businesses! WCD encourages participants to be eco-friendly…

Participants- please bring your own favorite candy bag!

*Starting location will be at…*
Lesher Center
1601 Civic Drive

Begin your afternoon of fun at the Lesher Center for the Arts (1601 Locust Street) to pick up a map of participating businesses between 2pm-4:30pm. Children 10 & under must be accompanied by an adult.

Convenient parking available at the following city parking garages:
1625 Locust St. (next door to the Lesher Center)
1350 Locust St. (between Mt. Diablo Blvd. & Cypress St.)
Metered street parking throughout downtown $ .50-$1.00/hr
We look forward to welcoming you to this whimsical & ghoulish event!

Special note: Broadway Plaza has their own Trick-or-Treat event that takes place on October 31st.