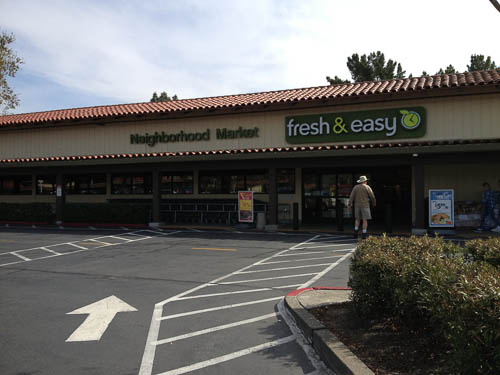 Less than two weeks ago I warned people to stock up on British food items at the Walnut Creek Fresh & Easy and now it's certain. Parent company Tesco, located in England, will close or sell all Fresh & Easy stores in the United States.
From the Daily Mail article:
Profits at Tesco slumped by 51 per cent last year as  it wrote off £1.2billion on a failed attempt to conquer the United States.

The fall in pretax profits – down by £2billion to £1.96billion – was its first in 20 years.

It is to close or sell its Fresh & Easy convenience store chain in the US in what is an ignominious failure for Britain's biggest retailer.
So given that it's going away eventually, what supermarket would you like to see in this location? Trader Joe's is already located at nearby Treat and Oak Grove. Safeway is even closer.